We've talked a lot recently about Pardot Engagement Studio, our 5 favourite features and what we'd like to see included in the future. If you didn't already know, it's the new and shiny product feature from Pardot that aims to develop 1:1 buyer journeys at scale, making your marketing campaigns more relevant, impactful and as the name suggests, engaging.
With multiple actions, triggers and rules, the Pardot Engagement Studio enables campaigns to be much more advanced than before, but this in itself increases the complexity beyond a simple, linear Drip Program.
How do you make Pardot Engagement Studio work for you?

Sure, you can make Pardot Engagement Studio work by clicking "get started now", but how do you really make it work and maximise its potential?
Quite simply, it requires ambition and a change of marketing thinking.
It's now possible for campaigns in Pardot to send the right content, to the right person at the right time without the need for complex Drip Programs, something which previously limited Pardot's functionality. Nurture frameworks that incorporate multiple campaigns with content at each stage of the buying cycle - whether that's for a specific product, event or cross-sell / up-sell campaigns – are now possible within Pardot.
However, without a framework mapped out with a coherent data and marketing strategy laying the foundations for more complex campaigns, you will not be utilising Pardot Engagement Studio to its full potential. Instead, you will merely be doing the same marketing activity you were doing previously, just made easier with this new functionality.
Here's an example of a marketing framework that incorporates multiple campaigns, defined by prospect and customer behaviour. Both ambitious and forward-thinking, the framework transformed this particular client's entire digital strategy and put Marketing back on the map inside the business.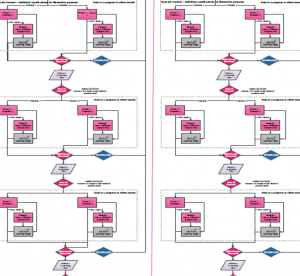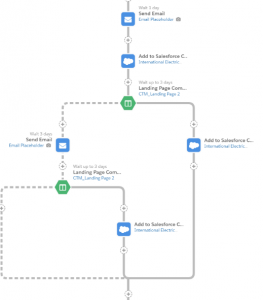 Making Pardot Engagement Studio work for you is not a case of just switching on the feature. It requires a change of marketing thinking, ambition and a solid data and content strategy to formulate a nurture framework that maximises its potential and in return improves your marketing ROI.
Require support in developing a framework in Pardot Engagement Studio to enhance your marketing efforts? We'd love to help.