- Clevertouch selected as a #marketochampion to update the Marketo Engage Business Practitioner Expert exam
- Adobe run and manage the certification which is suitable for customers, consultants and partners
- Clevertouch joined six Adobe professional services consultants in developing the exam to meet the needs of the modern marketer
---
Early this year, the Adobe Credential Program enlisted the help of Marketo champions, Adobe experts & an assessment expert, to update the Marketo Engage Business Practitioner Expert exam. Clevertouch were delighted to be invited and Matt Prior, Technical Consultant, joined Adobe's team as subject matter expert.
Commenting on the new certification content, Matt Prior said, "The new certification is brilliantly structured in six distinct sections which cover the essentials of Marketo. As well as teaching the technical aspects, the new exam puts real-world use at the core of the syllabus to provide relevance for the modern marketer. This elevates the certification above other platforms and positions it as a best of breed credential."

In order to ensure the latest version of Adobe Certified Expert - Marketo Engage Business Practitioner was as relevant as possible, the team conducted job task analysis, composed questions, reviewed then approved/rejected each question. The team then built the exam to industry standards and Adobe certification levels. Josephine Elizaga, Exam Developer/Marketo Certification Manager, from the Adobe Credential Program led the team through multiple discussion rounds, promoting cooperation and camaraderie during many long meetings.

The AD0-E554 Adobe Marketo Engage Business Practitioner expert exam is available to customers, end users, partners, and consultants. There are free preparation materials to support a candidate including a readiness questionnaire and practice test (a full exam with the same quality as the actual test). Links are in the exam guide which you can find here.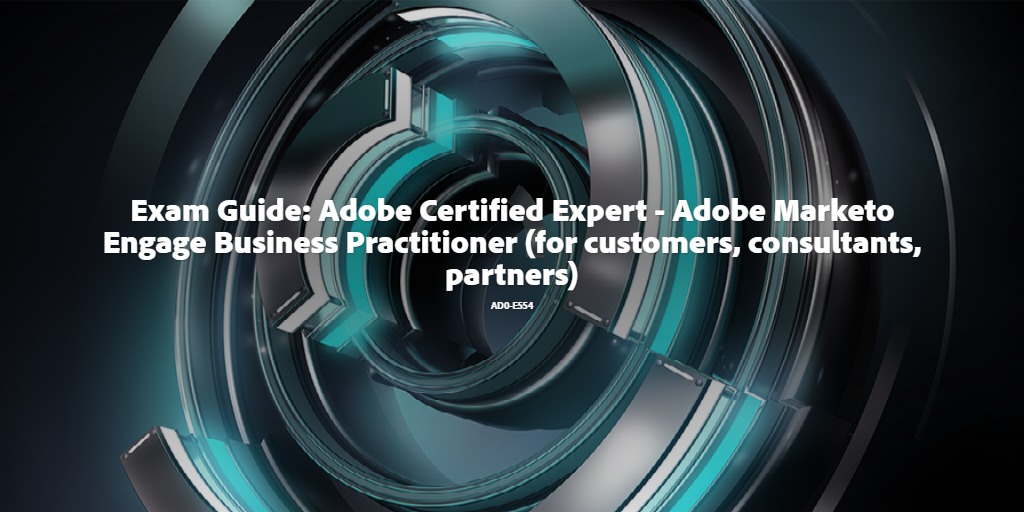 Adam Sharp, CEO and Co-Founder of Clevertouch Marketing, commented on the news:
"Adobe have the most complete martech vision of any vendor so as the first services consultancy in Europe created with martech in mind and Marketo's first international partner of the year, we were delighted to be invited to take part in this certification design process, drawing upon our expertise of working with over 500 enterprise customers. We are so committed to the new certification programme, that we are further developing our own Marketo capabilities amongst the 25+ people currently holding Marketo Engage certifications within our own organisation."
Adobe are not stopping their support of the existing exam immediately. The old MCE exam (AD0-E552) is available to schedule until December 31, 2021. All certificates, unless expired, remain valid.
Clevertouch offer Training and Certification courses to support your Marketo Certification journey.
---
END