Setting up an ideal scoring model for your organisation is critical to your success with Pardot. Establishing the ideal lead scoring model involves time with Sales to understand what they constitute as 'sales ready'.
A form submission is one of the best indicators that a prospect is interested in what you're offering. Adding additional scores to forms designated for a certain product can push these prospects a little closer to sales sooner.
Use completion actions on the back of forms to adjust a prospect's score.
Have an Automation Rule set up to send prospects to Sales when they reach your 'lead score threshold' – this will be unique to your organisation, determined and agreed with Sales as outlined above.
Think about using 'negative lead scoring' too. If a prospect has been in your Pardot database for say 3 years and has only just reached a score of 100, they may not be the most 'sales ready' lead. Use Pardot to reduce your prospect's lead score if they haven't interacted with any of your marketing assets for a while.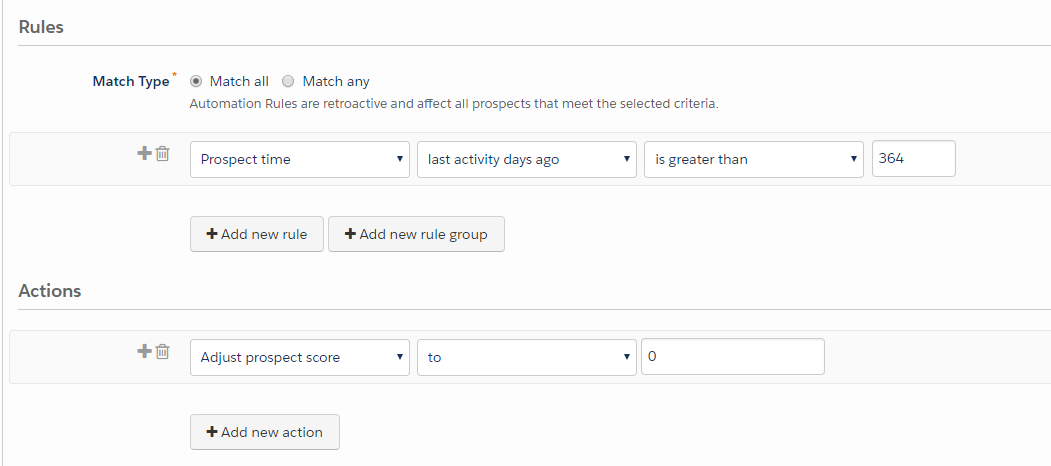 Remember though, when you set lead scores don't just leave them. Re-evaluate them regularly. If your prospects are gaining too many points from 'less valuable' activities, such as page views, it might be worth reducing the score for these engagements. Sit down with Sales regularly too and gain feedback on lead quality and volume and adjust your lead score model appropriately.