There are many reports available within Marketo, but 'Program Performance' provides an overview of programs and their members and includes information such as the number of new records generated.

Reports on program membership can be difficult to understand, especially when there is no clarity on how records initially became a member of a program.
When a record enters a Marketo program, they are made a 'Member' of the program as well as provided a 'Status' related to the specified channel.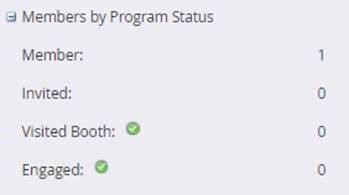 There are a number of ways that a record can enter a Marketo program and we've documented these below:
Forms - A form being submitted which was a as a Local Asset to the program.
Static Lists – During the import process if you select the 'Acquisition Program', this will add records as a member of the program. This also populates the following fields against the record which are also synced to CRM for attribution purposes: 'Acquisition Program' and 'Acquisition Date'.
Event Syncing – When a Marketo program is synced with an 'Event Provider' the status is updated, and the record is added to the program.
Marketo Event App – Manual creation of a record using the Marketo Event App.
SFDC Program Syncing -  When a Marketo program is synced to a SFDC Campaign, if new records are added to the SFDC Campaign they will become a member of the Marketo program. Note that you will need to ensure that all statuses in Marketo and SFDC Campaigns match or the sync will fail.
Require bespoke Marketo training to get you up to speed, plug skill gaps in your team or support you in becoming Marketo certified? Find out more and build your Marketo training plan.