On Tuesday 7 March we officially launched our 2023 State of Martech Report first at a prestigious networking event, the CMO Summit, in London. Over 60 CMOs and Marketing Directors attended a conference agenda and 121 meetings where they talked about marketing-led business challenges. Here's our marketing team's report on what we heard at the Summit...  
The event began with an opening panel: 'Purpose-Driven Marketing - Are we reaching its saturation?' from Daryl D'Cruz at Hexdon, Scott Somerville from EON, Molly Dobson from Currys Business and Briony Mathieson from Olam foods. They spoke about the purpose-driven brands they love: Toms, Who Gives a Crap, Oddbox, Samsung and more, and explained how their own experience in different in-house brands has shaped how they see purpose-driven marketing as central to business strategy. Briony said that purpose isn't essential to measure if you know it's right. And that 'it's not just what your own business does, in some business models, that matters, but the impact an extensive supply chain is critical to true purpose improvements. 
At 'Doing Well by Doing Good-Communicating with Impact', the team at Finastra, a software company for financial institutions, spoke about Marketing uses ESG to build the brand and generate demand. He shared a personal story to prove that the notes were not produced by Chat GPT! His own proposal in his organization moved from a peer-influenced CSR strategy, which helped improve attraction to employee candidates, marketing return on investment and how this activity helped in a new business pitch process. Jay Murkey (ESG director) asserts that purpose-driven marketing is about what a business can bring to make the world better, so it's important that their business walks the talk and it is important to talk if you're doing the right thing. Thinking about content vehicle, Finastra TV is a YT channel which is integrated with our martech systems so they understand exactly who is watching and what they like. The creative schedule is planned 9 months in advance, with social clips.  
At 'The Five Words That are Ruining Your Marketing' by Schwa, they highlighted some of the ways that brands can quickly fix the effectiveness of their communications. Businesses can easily forget that their customers are people, and as Nick put it, 'you don't necessarily have to make the best product, you just have to make the one that is the easiest to consume'. It's better to assume that your readers are lazy, selfish and ruthless, as this produces content that is clear, short and interesting, which should be the basis for all comms before adding a layer of brand voice. If you can create a really clear piece of communication, it's implied that you understand what you're talking about. Nick echoed Clevertouch's view that more isn't better, better is better, and incremental gains in what you're doing are far more helpful than trying to make larger, widespread changes – doing everyday things better should be woven into the mindset of CMO's. 
Just before the lunch break, our own CEO, Adam Sharp and Professor Paurav Shukla from Southampton University Business School spoke at 'Reframing the CMO's martech agenda for the next 10 years'. The last 10 years have been all about marketing technology (martech) acquisition to the point where more is now spent on martech than on marketers. But how does the CMO balance the digital-first approach with optimising existing investment? How does the CMO manage a state of martech chaos towards one of coherent control? How does the CMO build an organisational environment fit for martech at scale?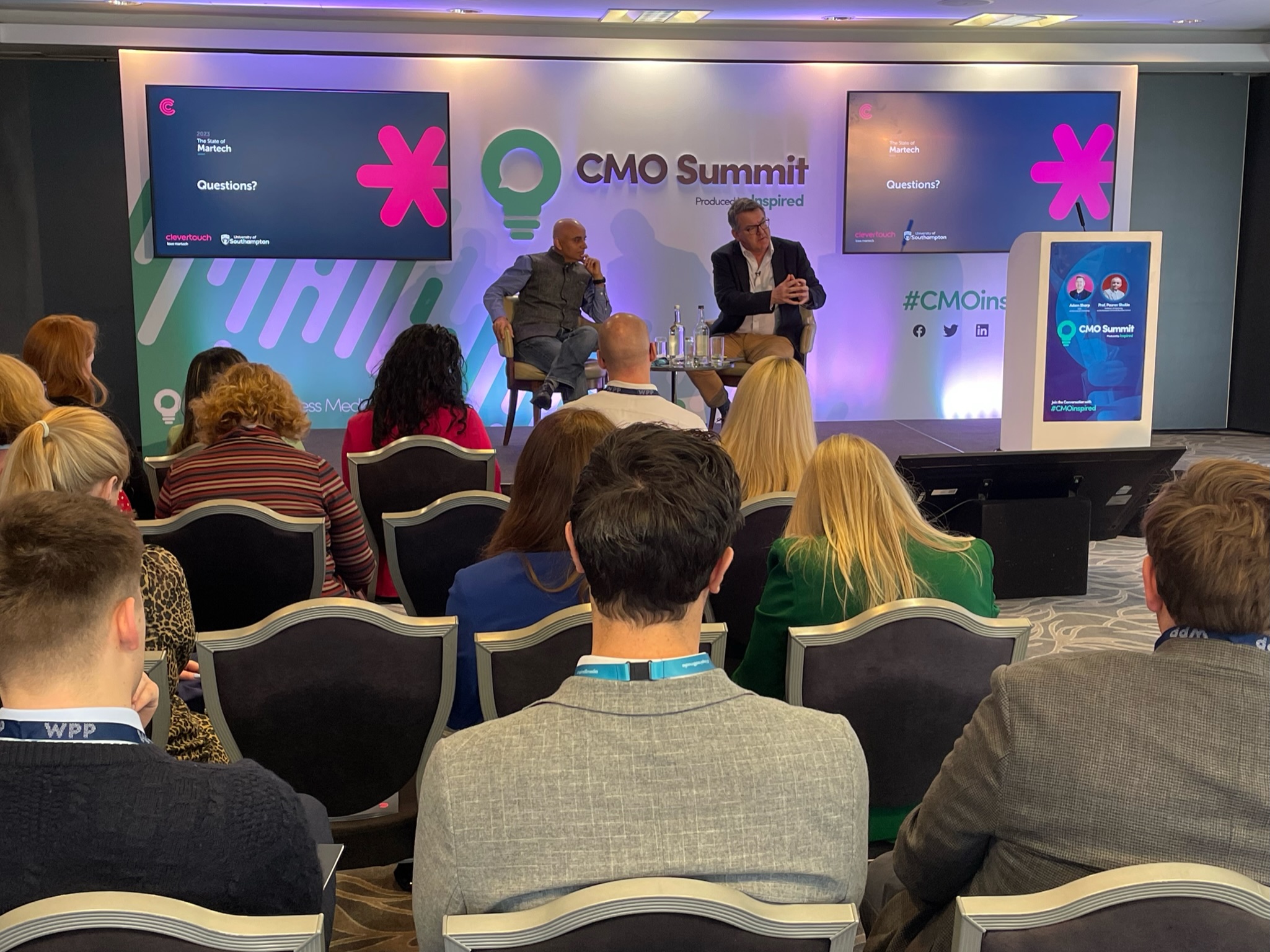 Drawing upon the 2023 State of Martech report, the longest, largest and most reliable martech research study, the pair discussed the changing dynamics, cultural differences and priorities and strategies for the CMO for the next 10 years ahead, as well as findings from the 2023 research. Paurav spoke about the continual need for hyper-personalisation, although it isn't a new concept. It's also true that not every brand needs to build these journeys – "I don't want a relationship with my toothpaste" – brands need to understand what customers want. Head over to watch the recording of this presentation here. 
At 'How to predict in an unpredictable world' by Similarweb, what to expect in 2023 as a global view of traffic the fastest-growing are luxury and jewelry and beauty and cosmetics, followed by groceries and fashion. The lipstick effect clearly still holds true – at a recessionary time, people continue to spend, or spend more, on luxury items. Buy Now Pay Later helps retailers to minimize drops in conversion particularly in the UK with the cost of living crisis has taken hold. There is also growth in price comparison websites, as cost-conscious consumers who want products find sites that are not in the mainstream to buy it at a price they can afford.  
At 'Connected Customer: Leveraging Omnichannel Insights to Drive Personalised Experiences' by Medallia, we heard that 71% of consumers expect personalised experiences but only 6% of companies deliver them – research data which closely reflects the findings in our latest State of Martech research, published in March 2023. Hyper-personalised experiences can add 10-20% to revenue (source: McKinsey).
It was a fitting thought to end the day on. Exceptional customer experience and increased revenue: the combination every business looks for!