CRM systems are rarely used for their original purpose. Invented to provide improved customer relationship and insight, and with a stickiness that transfers across the entire customer lifecycle, CRM has fallen well short. Marketers need to start championing a digital rethink on the purpose and benefits of their CRM system, and begin looking at how / if their systems are actually delivering on their reason for purchase.
Marketing Automation combined with Business Intelligence can deliver some customer relationship management, but Customer Data Platforms (CDP's) can provide so much more, ultimately fulfilling the promise of CRM that was never delivered through CRM systems themselves.
Read on to find out more about why CMO's need to be considering a rethink of their CRM systems and introduce a CDP.
The history of Customer Relationship Management (CRM)
Back in 1993, Tom Siebel, an aspiring Oracle executive, proposed the business concept of creating 'enterprise applications' tailored for the needs of Sales, Marketing and Customer Services. When the idea was rejected by Oracle's Senior Execs, Siebel left and founded Siebel Systems. It didn't take long for Siebel software to become the NASDAQ stock darling, it was exceedingly expensive and took an age to implement, but it was the de-facto aspirational Sales and Marketing platform across the global elite.
However, it took another former Oracle executive to make enterprise applications affordable, agile, flexible, and most importantly, available for mass-adoption. That exec was Marc Benioff, and that company was Salesforce.com. Salesforce was founded in 1999 with seed capital from Larry Ellison, founder of Oracle, a move which ultimately led to the demise of Siebel Systems and its' compatriots, which was later acquired by Oracle in 2006. If there is a business lesson here, it is that 'what comes around, goes around'.
The early years of modern Sales, Marketing and Service Systems
Siebel was a system that required the businesses using it to adapt to its way of working, and not the other way around. This was at a time when the job of work was radically changing too. In the 80's and 90's Enterprises were reinventing themselves and investing huge amounts in telemarketing, inside sales, and remote (often offshored) service models.
Direct Marketing models were the technology innovation of their day, as championed by the likes of Dell for computing and Direct Line for insurance. They adopted the idea of selling home and car insurance over the phone, rather than face to face, an idea that now seems commonplace, but at the time was rather radical.
These new companies changed both the cost model and the customer engagement model. They were more efficient, cheaper, and had wider coverage models. This made life very hard for the traditional incumbents to try and compete against them. However, to offer the same level of customer service as a traditional face to face experience, they needed agile Sales and Marketing systems, and so in effect they became the innovators of technology too.
1:1 relationship thinking, the promise of CRM
In 1993, just when Siebel got going, arguably the business book of the year, as described by the business guru of the time, Tom Peters, was written. Don Peppers and Martha Rogers' ground-breaking work 'The One to One future: Building relationships one customer at a time', positioned Siebel Systems in the executive's ear, and provided a vision for the future with which to succeed.
One to One Marketing promised a technology based database, the ability to only ask questions once, and to have a record of all interactions, transactions and engagements. The focus on selling more to fewer customers rather than the opposite was addictive and became the management mantra of the time. It was this flight to deeper customer understanding, closer engagement and solution selling rather than merely the low-cost transactional selling that was so appealing to Sales and Marketing executives and C-suite alike. In effect this book, and Siebel Systems, collided to bring us Customer Relationship Marketing (CRM).
CRM Software and the creation of SaaS
Siebel wasn't alone at being overly inflexible and expensive, other leading vendors such as Clarify and Vantive, also operating in the Sales and Customer Support Marketplace, worked that exact same way too. This was an expensive, inflexible and inefficient way of working, and what was really needed were agile, affordable systems that could be developed and enriched on the fly.
Welcome to the world of SaaS, Software as a Service.
Salesforce turned the industry upside down with their 'no software' mantra, though of course it was software, it just wasn't installed locally, instead held in the cloud and rented on a monthly basis with development cycles taking days rather than months. It was super appealing, and it became the challenger CRM brand, whilst the incumbents failed to innovate and melted away through acquisition. Other Vendors have since entered the market including Microsoft Dynamics and Oracle CRM, but their impact and adoption is a fraction of the market leader, Salesforce CRM.
So, why do people buy CRM?
The reality is that most organisations buy CRM software for the right reasons, but it ultimately ends up being used in the wrong way. The odd thing about CRM is that it has been championed by both IT and Sales and Marketing as the de-facto system of record, the platform to manage contacts and account history, relationships, opportunities, and orders, servicing even marketing.
However, the reality was that in most cases, the CRM became the final dumping ground of company defined data, a bloated mishmash of unusable information often dating back to the time of purchase. I'm not a cynic, or anti-Salesforce, in fact I am a huge fan. I first encountered and adopted SFDC in 1999 when I replaced Vantive with SFDC on a project I was running to integrate our digital presence with a telemarketing centre and have used it and adopted it extensively ever since, I just think it is in most cases used incorrectly.
In the vast majority of instances, Salesforce is used as an over-elaborate and inflexible database, essentially a dated organisational system of record combined with imported databases, contacts and enquiries, providing little value to any organisation. Where Salesforce provides most value is in opportunity and pipeline management for both existing and new customers, however too few companies use it this way. Some industries are better than others, and it largely depends on their go to market approach, where channel and indirect businesses only add to the confusion and chaos held within the CRM.
Opportunity Management & Forecasting is not Customer Relationship Management
CRM's are most powerful when combined with BI tools such as Tableau for richer reporting.
Below is an extract from Tableau (a Salesforce company) showing exactly how we track our forecasting process against our Business Plan of Record (POR) and On Target Earnings plan (OTE), which is our upside stretch goal, across 2 of our 3 lines of business. We can track and forecast daily, it refreshes every 15 minutes, and we can see how we are tracking to the two plans, on any device. In the example below this is taken from a mobile phone.
The example below shows how our existing business is running 96 days ahead of the POR and 76 days ahead of our OTE plan, whilst our new business is running a little behind plan. Our whole business runs from this kind of reporting, and it impacts hiring and other investment decisions – it's essentially our forecasting and business system of record. This is what CRM systems can deliver. These dashboards are powerful, mission critical, and used company wide, but it is a far cry from the original reasons for adoption. It isn't Customer relationship marketing in the original sense.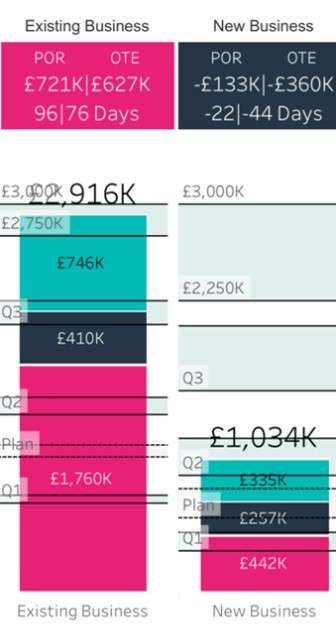 So how to do CRM if it isn't inside CRM systems?
If you wish to have a system that records every customer interaction, both company defined (i.e. your content based on your thinking and analysis), and user defined (i.e. content based on your customers and prospects behaviour and interactions both offline and online), then you need a few more systems that just a CRM system.
The brutal truth is that there is simply too much martech and salestech out there, but some are in fact more important than others. We champion the concept of the Martech Spine©, a model which suggests that with 6-7 core systems an organisation can deliver much of that original CRM promise. Adopting the Martech Spine© model provides marketers with a single customer view, a record of each interaction, the ability to track outbound and inbound activity across email, web and other systems, and the ability to engage with customers and prospects on the platform and frequency of their choice.
Of course, The Martech Spine© can be nuanced to your own organisation and your way of working, and it is increasingly being adopted by leading digital organizations including Fujitsu, Aviva, ATOS, and PWC.
Marketing Automation and CRM
Marketing Automation (and Marketing Cloud) platforms were created to plug the gap between an organisation's website and their CRM, to do what CRMs couldn't – schedule and automate customer communications. This is illustrated in our original Martech Spine© graphic to show how a CMS, Marketing Automation / Cloud and CRM system should co-exist.
 
The Martech Spine 2018
There has been a massive boom Marketing Automation platform deployments over the past 10 years, they are now ubiquitous in most marketing departments. But as the customer journey has become more complex and fragmented, the linearity of a customer passing through a company's pre-defined process and journey is being challenged. This linearity of the Marketing and Sales funnel however, is the foundation of CRM and Marketing Automation platforms. With the change in customer behaviour and expectations in recent years, marketers have realised they must adapt and develop company wide communication strategies that are more fluid and expansive than most CRM and Marketing Automation platforms can provide.
Ultimately, it is a Customer Data Platform (CDP) that does the job of CRM
CDP (yet another TLA, three-letter acronym), is a term first used in 2010 but has been gaining significant traction since 2016 and the introduction of the CDP institute, founded by David Raab, an experienced and well-respected marketing technology analyst. It stands for Customer Data Platform, and it fills the capability of many of the original purposes of CRM - a single holistic customer view, the ability to communicate based on preferences of the customer and their behaviour, be it digital and online or physical and in-person activity. It is also becoming the system of record for data compliance reasons too.  
The thing about CDP is that many vendors play in this space, including both Adobe and Salesforce, the two leading martech vendors from a completeness of vision and product offering perspective. To add to the confusion, CDP is a holistic term and can mean very different things to different people, resulting in quite different functionality. So again, to help, we have come up with the following graphic and the 3 fundamental capabilities of a true CDP. Ingest, unify, and activate. You can read more about what makes a CDP, a CDP here.
To help distinguish the differences between a CRM and a CDP, this handy high level table compares the functionality and jobs of each. The most compelling here, in our opinion, is that the CRM is ideal for customer facing roles for capturing conversations and managing sales opportunities, but for non-customer facing roles such as Marketing, Product, and Leadership, a CDP provides a much more comprehensive understanding of the customer beyond just the Sales cycle.  

With a Customer Data Platform, not only can it ingest customer data from a magnitude of different sources, but it also unifies and structures the data ready for complex segmentation and hyper-personalisation. The key difference between a CRM and CDP here is that it activates the customer data by instructing the Marketing Automation / Marketing Cloud platform to communicate based on updates and signals in real-time. This moves organisations from a linear and pre-defined customer journey, to one that provides a tailored experience defined by your customer's unique interaction with your organisation. This is illustrated by our most recent view of the Martech Spine© which puts a CDP (and therefore your customer) at the heart of your marketing technology strategy.

The Martech Spine 2021
Essentially the CDP at the heart of your infrastructure, enables the original vison and promise of CRM to at last be fulfilled.
CRM is perfect for opportunity management, whilst CDP is an intelligent database that can unify systems and activate engagements accordingly. They both work in conjunction with Marketing Automation and Marketing Cloud which deal with lead nurturing and engagement, as well maintaining that ongoing dialogue with your customers. These platforms, operating within the framework of a strong Martech Spine© provide your marketing department with the ability to create great customer experiences, across all journeys of their lifecycle with your organisation.
Marketers need to start championing a digital rethink on the purpose and benefits of CRM systems inside their organisation and start looking at ways of delivering on that original Peppers & Rogers vision. CRM ultimately started the SaaS revolution, removing IT as the core stakeholder, creating shared stakeholder status between both IT and the business in any purchase of martech. But customer behaviour has changed exponentially in recent years, and the most ambitious organisations are embracing Customer Data Platforms, the technology that truly delivers on the promise of one-to-one communications.
If you'd like to find out more about how Clevertouch can help you deliver on your vision and architect your own Martech Spine© and so push the boundaries beyond your existing CRM and Marketing Automation environments, get in touch today.
Adam has over 30 years' experience working in Fortune 500 organisations including IBM and Iron Mountain. He has a degree in Applied Psychology from Cardiff, an MBA from Southampton, and is a Fellow of the IDM. Adam currently works as CEO of Clevertouch, Europe's leading marketing technology consultancy.