A unique piece of Marketo functionality called 'Campaign Request' is typically used for operational functions such as Lead Management and Scoring. This function is not typically used within marketing programs; however, it can be useful in certain situations.
Take a three-touch email campaign for example. There are many questions that should be asked before a Program can be built. Are all the emails built and fully tested? Are there any triggers or actions required between sends?
For flexibility, 'Campaign Request' can be used to link one Smart Campaign to another. This provides control to de-activate certain Smart Campaigns or unique actions independently after each email send. This is all without requiring multiple Marketo Programs to be setup separately, or a single Smart Campaign with a large multi-step flow with limited visibility.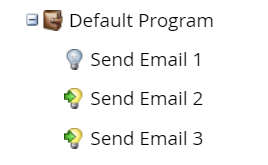 At the end of the Flow within the 'Send Email 1' Smart Campaign:

At the start of the 'Send Email 2' Smart Campaign: