Capability Chasm is a term which defines the gap between the ambition and ability of marketing departments with their skills, strategy, and organisational design approach to marketing technology. 
Check out our infographic on the 5 steps to address the skills deficit in marketing technology here for more information.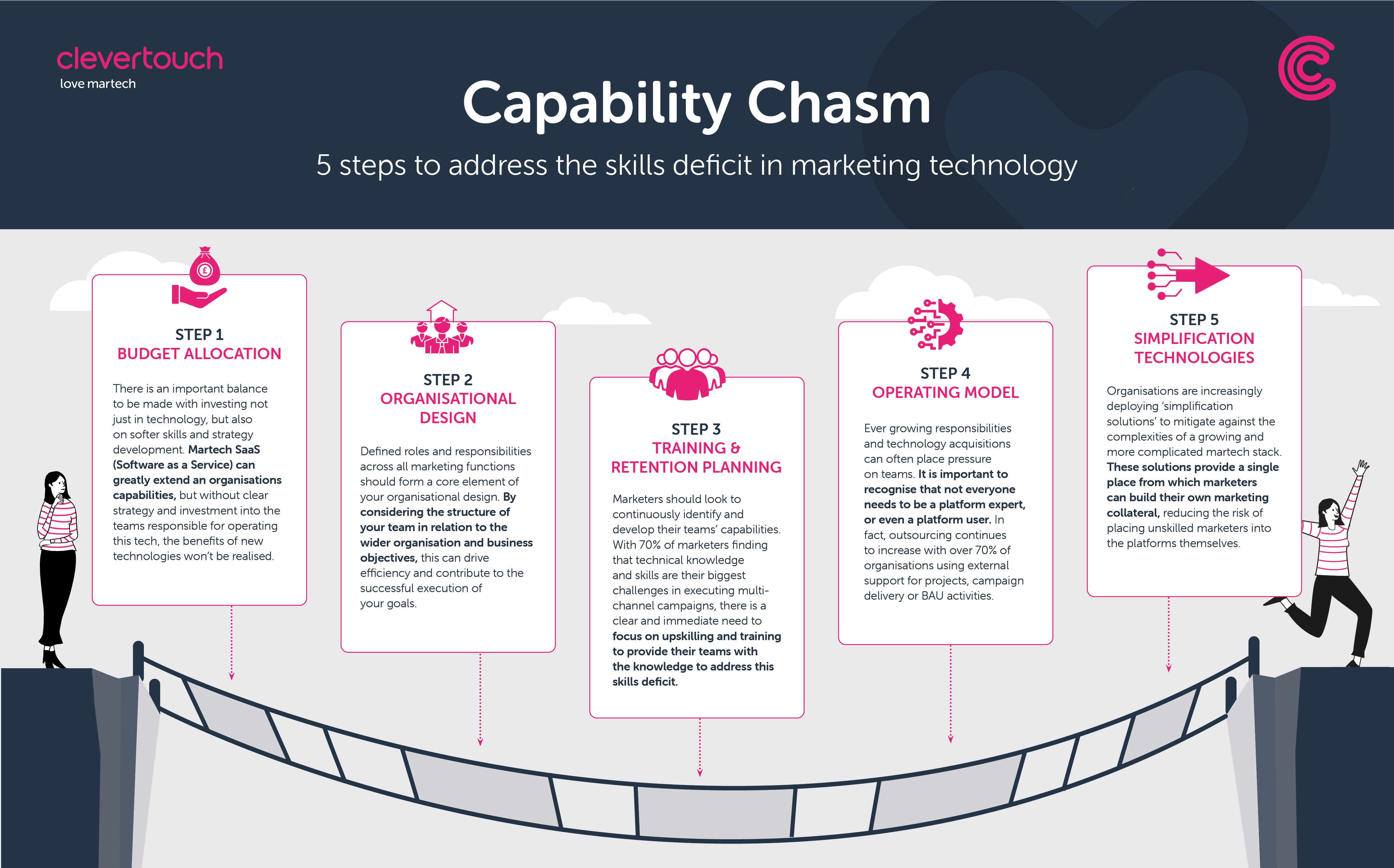 Ever increasing responsibilities and the acquisition of additional technologies can often place pressure on teams. As a result it's imperative to consider your operating model when building a strategy and purchasing technologies. It is increasingly important to recognise that not everyone needs to be a platform expert or even a platform user.
In fact, outsourcing continues to increase year on year with over 70% of organisations surveyed using external support for projects, campaign delivery or BAU activities.
When an organisation is deciding on the best approach to take in defining their operating model, business capability should be considered, alongside process and technology. It is one thing to understand what exists in terms of capability across the business, but the difficulty comes when an organisation must decide how best to deploy and manage this capability.
This highlights 3 key ideas:
Optimise platform access
Outsource to experts where required
Supporting governance and documentation
Optimise platform access
With the increasing volume of Sales and Marketing technologies, employees can often be overwhelmed with overlapping functionalities and the sheer volume of different processes to follow. It is therefore important to ensure that platform access is a carefully considered activity. Be clear who owns the platform, who the core users are and avoid providing access too widely spread where it is not required. Ambiguity in ownership is often the case with technologies, so by establishing this from the offset it can prove to be beneficial and avoid other problems later down the line.
Outsource to experts where required
According to our recent State of Martech Report, only 24.5% of marketers are certified in their chosen martech platform, and so outsourcing to a consultancy can be an easy solution to your martech issues, rather than the costly, and often, fruitless efforts of upskilling your existing workforce – what's to stop your martech talent being snapped up by a rival and all your investment going to waste?
Supporting governance and documentation
Technologies require platform experts, however all too often organisations can place too much reliance on an individual knowledge and experience, without consideration for documenting any business processes. A common issue we see is key personnel within an organisation leaving, taking their knowledge of the business platform with them. This leaves the organisation with not only a gap in the technology know-how, but also a lack of any form of supporting documentation. Mapping out key processes in a workflow can be a useful activity to address this issue and provide a reference document for the wider business.
A well thought out and considered operating model is key in order to effectively execute on your business strategy and support key initiatives. It also provides clarity for your teams and reduces any accountability ambiguity.
Check out our infographic on the 5 steps to address the skills deficit in marketing technology here for more information.
Want to know more about organisational design? Book a consultancy session today here.